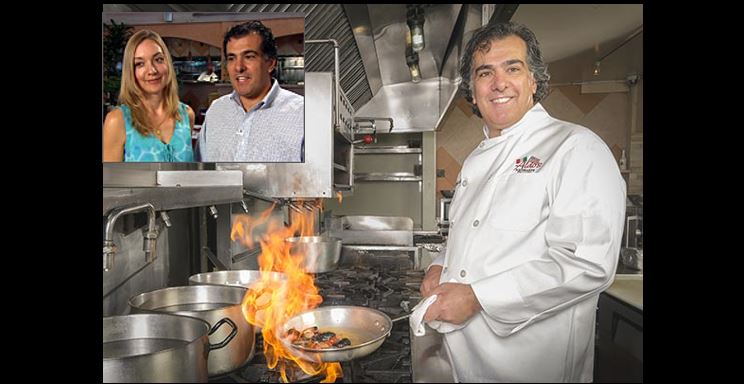 Aldo and Barbara Maresca are old friends of mine, their tiny, original Los Gatos, CA, restaurant was the site of my 50th birthday party. A sweeter couple you'll never find. Telling you about the huge success they now enjoy brings tears of joy to my eyes.
21 years ago Aldo Maresca emigrated here from Sorrento, Italy with just $400 in his pocket and cooking skills developed as the younger brother of five sisters. A year later, still learning to speak English he met Barbara, said just the right words and these two sweethearts (literally) became a couple. His culinary skills and her accounting degree were also a match made in heaven and now their Northern California destination restaurant is busy all the time serving a who's who of local and national celebrities and anyone else who appreciates great food and feeling like they're dining in a loving family home. Part of the ambiance comes because many of the staff at Aldo's are friends and family he's brought over from Southern Italy to help them get ahead in America. There's a lot any couple can learn from their success story…
1. How did you meet, why did you decide to go into business together, and why this particular business?
Aldo and I met in San Francisco.  He was working at an Italian café called, "Dolce Vita."  I had just moved from the D.C area about one week before, and he had come from Italy one year prior to our meeting.  He didn't speak English, but within a couple months we were dating, one year later we were married, and one year after that we both quit our jobs and went into business together.
I had been working as an accountant for a major corporation.  I was not completely satisfied.  I got a degree in accounting because I was always interested in owning my own business.  Aldo comes from the Sorrento area in Italy, full of tourists.  Restaurants and anything related to the hospitality business is big there.  He's always liked to cook since he was a child, and studied cooking in Sorrento.  He worked so hard at the café where he was in San Francisco, that the owner just handed it over to him to manage.
I've always liked working with people in a hospitality or service oriented business.  I saw that Aldo was a natural.  I felt like I could manage and support the business.
2. What are the biggest advantages of being in business together?
The advantage of being in business together is that we are both working for a common goal.  There were no conflicts over the sacrifices we've made.  There is no conflict over working holidays, weekends or late nights.  We both share an interest in the business.  Also, we complement each other with our differences.
3. What, if any, are the disadvantages? 
The disadvantage was that our personal and professional lives were mingled together in a period of never ending stress for the first couple of years.  We had just gotten married, we just went into business together and we came from different cultures, and different backgrounds.  Then, a friend took us sailing on a Sunday.  We didn't talk over all the things that were bothering us.  We sailed.  By the end of the afternoon, we were holding hands getting off the sailboat.
4. What were your biggest challenges when you first started your first business?
The biggest challenge was handling grueling, long hours with stress and fatigue.  We had to be responsible for everything and do everything ourselves for the very first time as a start up.  Nothing was really routine.  We had to figure everything out.  We actually moved from the San Francisco area to be closer to the business and it turned our lives upside down.
Aldo said he worried about making it.  Personally, I never had a doubt.
5. What are your biggest challenges now?
Aldo says he still worries about everything!
It's always been hard and a little disappointing for me to have employees who don't represent you well or disappoint you when you really care about your business.  Restaurant employees, for the most part have a high turnover.  Americans mostly use the job as a stepping-stone or a way to make a little money for a short time.  In Italy, it's a profession.  Did I say, Aldo says he still worries about everything?!
6. How has copreneuring affected your relationship and your lifestyle?
I think our lifestyle is great now.  Not perfect.  Aldo still works too much.  Since having children in 2001, I only handle the business side of operations and Aldo handles the day-to-day operations.  We opened a café in Los Gatos in 2008.
We live 3 blocks from the restaurant.  We eat well.  I have a flexible work schedule so that I can be home with the kids when they are sick, or go with them on a fieldtrip.  I have some balance in my life.  I like the variety in the different aspects of restaurant industry: business, social, food and wine, and a touch of elegance.  We meet such interesting people.   Being in business together is one thing we have in common that we share day in and day out.  Our restaurant is like a second home to us.  It has been a spiritual, social, and enriching experience.  We have celebrated peoples' joys and brought them together in hard times.  We've danced together, friends and strangers, young and old at the same time.
7. How do you manage disagreements, misunderstandings and make sure you "fight fair?"
One thing that is very, very important is that we both have very different and separate jobs for one common goal.  He handles his job and I handle mine, and we stay out of each other's job unless there is some common ground that we need to discuss.  Sometimes we do have to compromise.
8. What do you consciously do to nurture love in your relationship?
We consciously take Sunday off.  Other days, we hang out together at the restaurant because that is where Aldo spends a lot of his time and because it gives us a good feeling to be together at the restaurant. It's part of the Italian culture too, food and gathering together.  I love to see Aldo doing what he does best.  As I said, it's like our second home.
9. What's the most dramatic thing that's happened while you've been working together and what did it teach you?
Bad deals that looked attractive on the outside have come by and we've avoided them, and ultimately, we've stuck together on it.
We have that commitment to each other.
10. What was the most inspired advice or coaching you received?
Successful people inspire us.  You inspire us, Jan!  All kinds of people, with their words, support, actions, enthusiasm.  Our mentors have been people from different backgrounds who seemed to really enjoy living life to the fullest by expressing their talents.  Just being around them has been inspirational.
11. Given the chance to start over again, what would you do differently?
I can't think of anything I'd do differently.  I have some business ideas these days, but I'm kind of busy to concentrate on them.  I've always wanted Aldo to be on a cooking show.  I think he'd be great!
12. Is there anything I haven't asked that you feel our readers should know, as they consider starting or staying in a couple's business?
I think your questions covered it!!  I know you have to do what you do best, have a vision, really believe it and be patient and persevere!
I hope you can feel the energy of this couple and have a chance to visit their restaurant. I welcome your comments or suggestions of other deserving couples businesses we might cover.
Here's a nice article about Aldo and Barbara published inLos Gatos Magazine. Photographer: Tony Avelar.